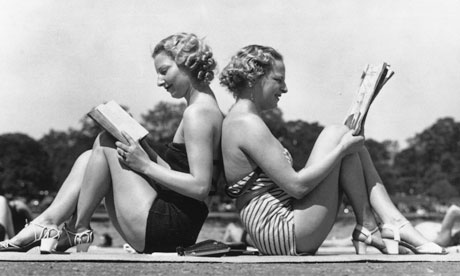 As a community, let's celebrate the joy of reading
Summertime reading. Two simple words that conjure up images of whole days spent on the beach, toes in the sand with a Mai Tai at your elbow, wrapped up in the newest release. Or perhaps the mountains are your locale, and an evening fireside with only the sound of crickets and owls nearby as soundtrack to a favorite novel from years past.
Either way, it's time immersed in reading, one of the most worthwhile and enjoyable pastimes we have.
Summer reading, however, is a completely different animal. It is drudgery, it is forced, it is assigned. All of my children had required reading over the summer, and each of them suffered through it.
To be clear, the act of reading during summer vacation isn't a bad thing at all, but as my 9-year-old put it just the other day, "I love to read, but when it's homework, it ruins it."
My son had to annotate several books over the summer. This means he packed different color markers for our beach trip and, as he read, he highlighted passages as they related to tone, character, imagery, theme and plot. Can you imagine a worse way to read a book? Can you imagine a worse way to instill love of reading in a young person?
A couple of years ago, my daughter read "Tom Sawyer" over summer break. There were so many subsequent assignments required to break it down and dissect it that she now hates the book. Hopefully that won't extend to all of Mark Twain's works.
Read and discuss — that's the best way to learn how a book was written, how its characters relate, and the arc of plot. Book clubs, discussion groups, readings by authors — this is where the magic, outside of simply reading on one's own, can be found.
I'm lucky enough to know some authors, and even though I count a number as close friends, I'm still in awe every time I talk with them. And they're accessible to everyone. It's one of the great things about writers: We're not unapproachable movie stars or pop stars. We live next door to you, and the biggest secret of all is that we crave attention. So talk about books with us. Talk about books with anyone, whether it's the summer or not.
Memphis and the Mid-South are replete with writers. There is a thriving literary community that ranks up there with music, visual arts, photography and filmmaking. On any given week, there's a reading or book signing happening someplace. And next week is the mother of all readings — the Mid-South Book Festival, hosted by Literacy Mid-South.
No one is going to make you read, and no one is going to make you highlight passages. There will not be a test on this. But there will be discussions, and there will be entertainment, and it will be fun, as books should be. I'm honored to be a participating author this year, and I hope to see you, and your children, in Overton Square for the festivities.