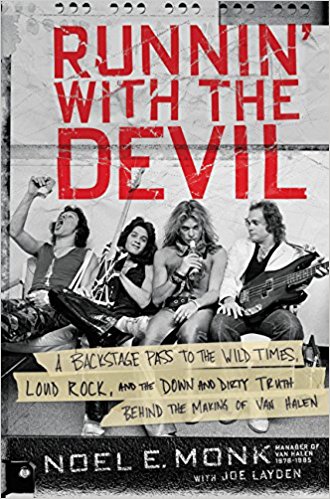 The Eighties
Sometimes I read books so you don't have to. Such is the case with Runnin' With the Devil: A Backstage Pass to the Wild Times, Loud Rock, and the Down and Dirty Truth Behind the Making of Van Halen (Dey Street Books).
As I tumble down the far side of my 40s on the way to 50, I have to believe it was my 14-year-old self who dug deep into his pockets for the lawn-cutting money to buy this book. That awkward and anxious kid would not have been disappointed. Written by the band's David Lee Roth-era manager, Noel Monk (with music journalist Joe Layden), the book is the age-old story of a young band on the rise while riding a wave of sex, booze, drugs, more sex, even more drugs, and tanker trucks full of booze. And then, in chapter two, we begin with sex and drugs and booze. Ad infinitum.
The last 30 pages would have been a shock to 14-year-old me (spoiler alert): The band breaks up! It's the telling of this story that is the most interesting and enlightening, particularly how three-fourths of the band — a band that, admirably, always shared equally in songwriting credit and revenue — treated that fourth, bassist Michael Anthony (not to mention Monk). In the end, we come away with what we already knew: Eddie Van Halen is a guitar god, Roth is a hyperkinetic sex machine, Alex Van Halen plays drums, and Anthony plays bass. And they're all, for the most part, assholes.
I read the novel Ready Player One (Crown) simultaneously. I admit I'm late to the game on this book that is closer now to becoming a film than it is to its first publication date in 2011. It was recommended to me by a number of my peers, and all with the same sales pitch: "You'll love it. It's full of '80s trivia and culture. The music, the movies … blah, blah, blah."
So I put on my parachute pants, slipped on a Members Only jacket, gelled up my hair Flock of Seagulls style, and dived in. And they were right, it is resplendent with video game, music, and film references from the era I entered at the age of 9 and exited at 19. But is that enough to make a book interesting?
Author Ernest Cline clearly thinks so. Ready Player One is set in the dystopian world of 2044, but protagonist Wade Watts, himself a teenager, lives in a nostalgic haze of 1980s culture. It comes in handy as he embarks on a quest for an "Easter egg," a hidden digital treasure found in video games and films. The orchestrator of the quest and its riddles is the late James Halliday, inventor of a social media platform unlike any we know today. It's an immersive world where players become whomever they wish to be and do whatever they wish to do. It's a way to escape the miserable world left for them by those who were in charge during the '80s. The Easter egg Watts and an army of "gunters," as the egg hunters are known, is Halliday's massive fortune, left in a cryptic will to be had by the "winner" of his game.
Like the game's inventor, I came of age in the '80s, and that decade produced a lot of crap. A lot. But the upshot of aging is the curation of memories and blurring hindsight so we focus only on the good: Purple Rain (the album), The Joshua Tree, Paul's Boutique, Appetite for Destruction, Die Hard, Airplane!. I met my future wife in 1987.
Nostalgia and sentimentality, though, aren't enough to hold my interest for 750 pages across two books. I can no more stomach the seemingly endless loop of Modern English's "I Melt with You" today or spend hours on end in an arcade, than I could a viewing of any John Hughes film in its entirety.
But this is only one middle-aged reviewer's opinion, and he's curmudgeonly and unsentimental. The teenager within finds these books as bitchin' as an episode of Square Pegs.