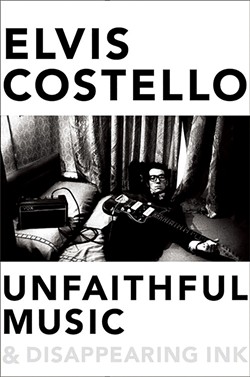 Book review: Unfaithful Music & Disappearing Ink
by Elvis Costello (Blue Rider Press)
Unfaithful Music & Disappearing Ink by Elvis Costello is a book about show business. It can be said that Costello's career didn't begin with the release of 1977's My Aim Is True, but when Costello, as a young boy, accompanied his father to the Hammersmith Palais in London where he worked as a crooner with the Joe Loss Orchestra. Show business is the MacManus (Costello's given name is Declan MacManus) family business. It was in the darkened ballrooms of his youth that Costello first learned not only how to hold a note but how to hold an audience. More than merely getting up on stage to belt out a tune, he learned about persona and character, conveying a story or emotion, and engaging a crowd. Such a life is Costello's birthright.
He shares his life with us through stories woven together over time and geography (this book is nonlinear, so while you might begin a chapter in Arizona in 1978, you may soon find yourself in 1969 Liverpool), and throughout we are schooled in the history of popular music. For anyone who thinks they know their early British rock music, Costello is here to assure you that you do not.
He came on the global scene in 1977 and his namesake, Elvis Presley, would perish within months of the release of Costello's first album. He walks us through the recording, rehearsing, marketing, and touring of that album and subsequent albums with anecdotes that read like a true rock-and-roll show — quick and raucous. He writes about those in the industry he looks up to and has played with and admires still, and just a few he never cared for at all.
But the most introspective stories are saved for his family and especially the illness and recent death of his father, whose presence was a beacon for Costello throughout his life. It's just the sort of emotion and feeling he's put into four decades of music, and it's that connection with the reader that makes a great entertainer and a great book.