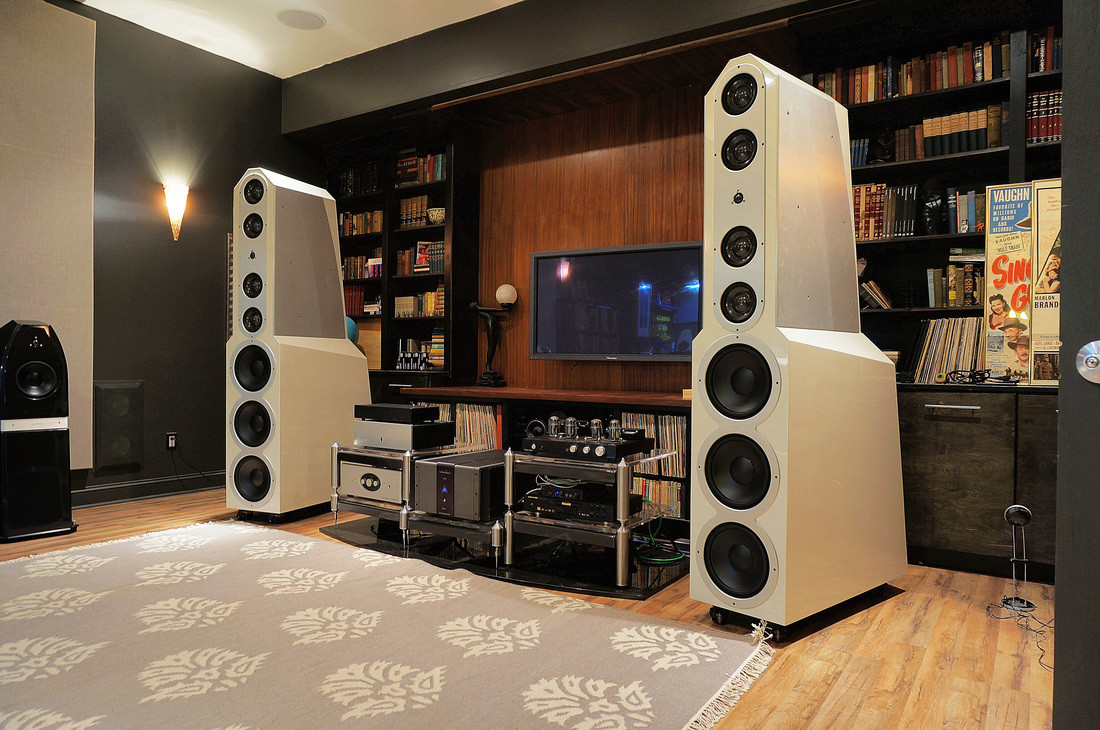 Ear Candy
EgglestonWorks keeps its global speaker-making business up to 11.
In a 10,000-square-foot warehouse just off of Broad Avenue in the Binghampton neighborhood, there is an assault on the ears. An autoCAD machine grinds its way through wood panelling as a table saw growls nearby; a bundle of lumber falls to the concrete floor. Everywhere there is dust and splinters, a hive of activity. 
But escape through a couple of doors and down a hallway, and find bliss. Among bookshelves and in low lighting, I sit on a leather couch surrounded by silence until Jim Thompson, co-owner of EgglestonWorks, touches the face of his smartphone and music floods the room. It's a drum and bass riff that brings the speakers Thompson and partner John Callery produce to life. And there is so much life in those woofers and tweeters. As I listen, oddly, it's difficult to know where to look as every snare lick, every hi-hat sizzle, every run up the fretboard appears to come from a different part of the room. Instead, I close my eyes and let the music wash over me.
The speakers — and they look more sculpture than speaker — at the front of the room retail for $155,000 a pair. It's not your everyday sound system but then, they were never intended for any everyday customer. The speakers were designed for sound engineer Bob Ludwig of Gateway Mastering who has worked with such notables as Led Zeppelin, The Rolling Stones, Bruce Springsteen, and KISS, among many others. "Bob fidgets," Thompson explains, "and he likes to stand up and walk around, so anything shorter and he loses the sound." The Ivy Signature speakers stand six feet tall, putting the backbeat and vocals at the master's ear level.
Ludwig and The Ivy are the exception to the rule as Thompson insists the recording studios are not why their company exists. Still, he says, there is not another brand of speaker in as many studios. "Engineers have just adopted us," he says. "This is not a professional product. We don't make speakers for mastering studios, we make speakers for people's homes. However, what a mastering engineer wants out of the speaker is exactly what you do, you just don't know it. You want to be able to listen to the speaker for a long period of time without getting tired, you want it to sound accurate to what you think that piece of music should sound like, and you don't want to have to turn your speakers down every couple of hours because it's bothering you. These goals that we approach towards a mastering engineer are exactly what somebody at home would want."
There are other catalogue options for those of us with holes in our bookcase and a smaller sum in our checking account. Products start at $3,500 for a pair and go up to, well, you've just read where they top out. Still, though, 10 pairs of The Ivy sold last year.
But what makes a great speaker, one that is worthy of listening to the playback of Keith Richards' guitar or Bruce Springsteen's vocals? "The cabinet," Thompson says. "The care and the thickness of that cabinet and all that goes into making that piece is unusual." With other, lesser-quality speakers, he explains, the cabinet itself is going to participate in the sound, meaning the vibrations will make a noise that can then color what is happening with the speaker component itself, known as a "driver." You don't want that. "The cabinet is our highest value piece."
After the cabinet, the quality of the electronics — the tweeters and woofers — make all the difference. These are sourced from places like Israel and Denmark. While the resistors and capacitors are built in-house, Thompson says,"Building a driver is like a laboratory-condition type of thing, you couldn't do that in our factory."
To put it simply, Thompson says, "You get what you pay for."
The majority of EgglestonWorks' business is not in the U.S., but with 37 distributors in 42 countries, and over 100 retail stores around the world. While market sizes fluctuate depending on the economy of a country at any given time, Asia remains one of the strongest and earlier this year Thompson and Callery opened a distributorship in Shanghai.
With 10 employees, the Memphis-based company sells about 450 pairs of speakers per year with annual revenue around $1 million, though Thompson is optimistic that they're on pace to surpass that this year. "We've got good momentum," he says.
The company was founded in 1993 as a furniture maker building speakers that looked like furniture. Thompson began working part-time in 1996 and became general manager in 1998. "I fell in love with the business," he says, and about that time the original investors fell out of love. Thompson purchased the business shortly after.
He'd grown up in his father's music instrument store where he became interested in the repair and technical side of the operation. When it came time to buy the speaker business, he called in longtime friend Callery, a true audiophile whose passion for music would be key. In 1998, the company had one product; today they offer 14.
Those products are lovingly made with pieces fitted together by hand. The colors are automobile-quality and applied in much the same way as an auto — sprayed, sanded, polished, and buffed — before the electronic components are put in and the whole thing quality checked, boxed, and packed in a shipping container to be sent overseas. If you were to follow one speaker from raw piece of wood to packaging, the process would take a week and a half, and it would be touched by human hands more than 100 times.
​It's that quality that resonates with customers across the city and halfway around the world. "My favorite emails are when people get their speakers and they send us pictures of them still in the box," Thompson says, "and they say, 'I spent six hours going through all of my music.' That's the biggest compliment, that you want to listen and to keep listening."