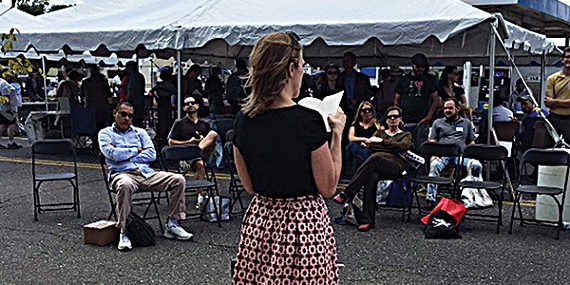 Mid-South Book Festival overcomes the odds
For the number of problems Memphis is said to have, we don't deserve the arts scene that we have." So said Dan Conaway, public relations stalwart, city bard, and a cousin of mine. We were talking among a group of writers at the recent Well Read Reception, the party to kick off what, by all accounts, was a rousingly successful Mid-South Book Festival. Put on by Literacy Mid-South, an organization whose mission it is to stamp out illiteracy in our area, the weekend welcomed 80 authors and 5,000 attendees.
And despite those problems, the arts scene and community in Memphis continues to thrive. And not just thrive, but become accessible to people of all walks of life. The book festival was free, and there were activities for kids, books given away, and workshops for wannabe writers. What Literacy Mid-South executive director Kevin Dean has done is bring a community of readers and writers together. With 120,000 adults reading below a sixth-grade level, Dean says, "the time is now to begin to actively engage the community and provide more access to the literary arts."
While a festival won't eradicate such problems, it does wonders to lift the human spirit. With such a turnout this year, there's no telling what next year might bring.
And speaking of community . . .
Author and chair of the English department at Morehead State University in Kentucky, Tom Williams, released a collection of short stories last August. Among the Wild Mulattos & Other Tales (Texas Review Press) is, at its soul, a search for identity and the community that might go along with the discovery. Williams, the son of an African-American father and white mother, writes in "Who Among Us Knows the Route To Heaven?," "For I'd already determined that someone like me was always treading a narrow and treacherous path — not unlike the tightropes stretched over Niagara Falls, with jagged rocks to one side, angry, churning water to the other." Those rocks and that water would be the children the character had grown up with, those who demanded he live up to the ideals of whichever race he chose to identify as.
Williams was raised in central Ohio and said recently by phone, "I felt like there was an urge on my point to belong, and I could do that to an extent, but not fully, or not completely. I felt like if I'd said, 'I'm one with y'all,' there's a lot of people that would've said, 'Well, not quite.'"
In "The Hotel Joseph Conrad," the community isn't racial, but professional, as the protagonist, Maurice, a writer on assignment, searches high and low for a hotel by that name. What he finds is a fraternity in the search itself, and a common bond with writers the world over.
In the title story, "Among the Wild Mulattos," the main character is a biracial anthropology professor who hears of a community of mulattos living in the Arkansas Delta. He sets out on a quest to find them and, when he does, is assimilated into their fold. He learns that, just because it's a community of like-minded, like-skinned people, a utopia it is not. This story brings the reader to Memphis, part of the outside world the members call "Two-Box" ("as in the two boxes one had to choose from on applications and the like: 'White' or 'Black.'"). He even teaches the secluded, teenage boys about the Grizzlies.
Williams knows a thing or two about Memphis. He worked in Jonesboro, Arkansas, for a time, and he and his wife visited at least once a month. "Every time I visited there, there's something that just puts me in a state of awe somehow," he said. "There's a kind of historical reverence that I feel there when I think of all the things that happened, there's a certain literary reverence because Richard Wright passed through there, Shelby Foote, Peter Taylor."