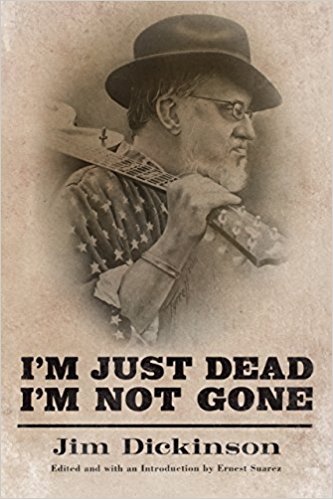 Misfit
A new memoir chronicles the life and times and music of Jim Dickinson.
As a tourist on the Dickinson Delta Musical Expedition, the decision of where to stop on your journey will be a difficult one. Baylor University? East Memphis? Muscle Shoals? West Memphis? Miami? Hollywood? Where will you climb out of that "canary-yellow Ford Torino with racing stripes, a full race cam, and three on the tree" to walk around and stretch your legs a bit?
Linger. Take in the sights. But get ready to move again, because your road map is Jim Dickinson's long-awaited memoir I'm Just Dead, I'm Not Gone (University Press of Mississippi; with Ernest Suarez), and it is a Benzedrine-fueled romp with one hell of a soundtrack.
I first came to know of Dickinson as the pianist on "Wild Horses" off the Rolling Stones' 1971 album Sticky Fingers. I knew that he produced The Replacements' 1987 album Pleased to Meet Me at Ardent Studios.
But I knew little else until I jumped on the ride that is this book.
Though he was born in Little Rock and grew up mostly in the Berclair and East Memphis neighborhoods of Memphis, Dickinson's musical journey took him through the dusty notes of Texas blues as a student at Baylor where his interests lay in the theater arts, in drugs and alcohol, and in chasing down the ghosts of heroes and legends such as Blind Lemon Jefferson. "There was no doorway to the past," he writes. "No Rosetta Stone to unlock the blues' secrets." Yet, it was in chasing those specters that he came to know himself and what it was he was passionate about.
He spent his formative years in Texas and at then-Memphis State University avoiding the Vietnam draft and honing a craft he wasn't yet sure how to utilize. Like so many young men and hopeful musicians from his era, it was a folksy Jewish boy from Minnesota who would turn Dickinson's world on end. Bob Dylan completed what Elvis Presley, Little Richard, and Furry Lewis had begun. His education began in earnest at places such as the Plantation Inn in West Memphis and even closer to home. "I discovered a burgeoning bohemian scene at the Cottage Coffee House in Midtown. The Cottage served coffee, featured poetry readings, and flamenco guitar music. There was a chess game in the corner. It was a great place to hang."
Dickinson's book is a history of white-boy blues, folk, and rock-and-roll in Memphis. He paid his dues at the Cottage Coffee House, the OSO, and the Bitter Lemon and spending time with other misfits at Beatnik Manor. He conceived of the Memphis Folk Festival and the Memphis Country Blues Festival, both at the Overton Park Shell.
He made his bones recording with Larry Raspberry and the Gentrys at Chips Moman's American Sound Studios. It was the gig that opened his eyes to the possibility (the magic) of producing records. His big break came as a producer at Criteria Studios in Miami for Atlantic Records. It was there that he put together the house band the Dixie Flyers and recorded such acts as Aretha Franklin, Delaney & Bonnie, Sam the Sham, and Carmen McRae alongside industry legends Jerry Wexler and Tom Dowd.
Dickinson would later return to Memphis, where he was most at home, with jaunts to Los Angeles and New York as his talents were needed. What we learn from the journey is that it isn't so much the locations but the people who populate them. This singer/songwriter/producer/misfit knew everybody, and if you recognize half of the names, then you're probably in the book as well. A companion tome with bios and discographies of all the names Dickinson drops would serve the reader well. But no matter how many colleagues and compatriots he mentions, there's one that's the most important and that shines through chapter after chapter: Mary Lindsay, his wife and partner in crime. Their marriage was the one adventure that ever really mattered to him.
The adventure ends too soon. Dickinson died in 2009 at the age of 67 following triple bypass surgery. With him, he took a wealth of music history and knowledge, but what he left — the music, the stories, the rambling good times — will keep us entertained forever.